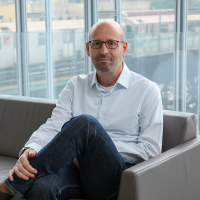 Working with colleagues, Itamar Kahn, PhD, recently investigated what makes one mouse brain different from another. The researchers found that, like human beings, each animal had specific patterns of activity: a neural fingerprint that could be used to identify it. As in humans, this individual variation appeared in brain networks associated with memory, decision-making and flexible behavior.
The researchers made this discovery using functional magnetic resonance imaging (fMRI), which employs a strong magnetic field to indirectly measure brain activity. Their results create a bridge for using precision fMRI in mice to further personalized medicine in humans.
Dr. Kahn's broad-ranging work continues to push the limits of brain imaging technology. Using tools borrowed from computer science, he's providing new insights into the fundamental workings of the brain, as well as the mechanisms of diseases and disorders.
"We are trying to advance fMRI as much as we can, both to learn about our cognition and to improve our health," says Dr. Kahn, a principal investigator at Columbia's Zuckerman Institute. 
His work starts with a simple question: What exactly does fMRI measure? Developed a few decades ago, this noninvasive, widely used technology detects changes in blood-oxygen levels. Scientists then infer brain activity, indirectly, from these measurements. Dr. Kahn hopes to improve these inferences by investigating what fMRI reveals across different species.
"There are limits to how well we can understand brain scans from people," said Dr. Kahn, who is also an associate professor of neuroscience at Columbia's Vagelos College of Physicians & Surgeons. "Using animal models, we can take advantage of genetic tools that allow us to isolate and better comprehend what's really going on in the brain."
Consider autism. Some people with a mutation in the gene Nf1, which is linked to learning disabilities, also have this disorder. Using brain scans from lab mice with this mutation, Dr. Kahn identified changes in the connections between different brain regions. In collaboration with colleagues, he showed that a drug identified by his colleagues seems to help the mice, motivating a clinical trial to help children with this mutation.
Given the ubiquity of fMRI, Dr. Kahn's efforts to advance the tool could have a far-reaching impact. His lab explores fundamental brain cognitive functions including how the brain learns to associate information in the environment with rewards, how mice use sensory information about other mice to interact with each other and finally, how the brain uses this information to control movements of the body to achieve the animal's internal goals. This focus on cognition and behavior allows Dr. Kahn and his colleagues to also investigate the root causes of aging, Alzheimer's and Parkinson's.
"There's a real revolution that is just on the verge of happening with this technology," says Dr. Kahn. "We are working toward a future in which you'll go to the doctor, lie in the scanner for ten minutes, and they'll look at your brain to diagnose what's going on."