Originally published on November 28, 2022
By Lorenza Favrot, Herbert and Florence Irving Institute for Cancer Dynamics.

The Irving Institute for Cancer Dynamics (IICD) recently set up a serial two-photon tomography (STPT) system with an automated collector to image and annotate tumor biopsies. The instrument will allow the development of new approaches to image and interrogate the tumor microenvironment with single-cell resolution. IICD Associate Member Darcy Peterka, PhD - Senior Scientist, Director of Team Science and Scientific Director of Cellular Imaging at the Mortimer B. Zuckerman Mind Brain Behavior Institute - oversees the project. The instrument is currently housed at the Zuckerman Institute.
These systems allow very high-resolution multi-color imaging of intact tissue volumes. They repeatedly image, then section and capture tissue sections. By using two-photon imaging with near-infrared light, the instrument can image deeper into scattering tissue than what would be possible with standard microscopy methods. The captured sections can then be further processed and analyzed using various -omics methods, such as proteomics or transcriptomics, to generate 3D spatial maps of gene expression or molecules linked directly to the anatomical maps.
Simon Tavaré, FRS - Director of the Irving Institute for Cancer Dynamics and Professor of Statistics and Biological Sciences - noted that "studying the molecular annotation of tumors in three dimensions is a rapidly growing area of cancer research, and the STPT system will allow the IICD to pursue a number of projects in that area. It will also allow us to build new collaborations with other Columbia departments and research institutes, one of the key missions of our institute."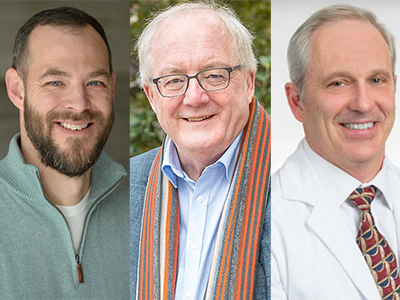 The first project utilizing the STPT system will be carried out in collaboration with Peter Canoll, MD/PhD - Professor of Pathology and Cell Biology - and Alexander (Elie) Goldberg - MD/PhD candidate in Neurobiology and Behavior - to examine a glioma model using a mouse brain with the aim to determine tumor/neuron interactions. "With a different microscope , we are performing functional imaging of neurons and microglia during sensory stimulation to see how the local brain activity is altered in the neighborhood of a tumor, with and without a drug perturbation," Peterka explains. "With the serial sectioning instrument, we want to get the complete spatial structure of the tumor, including the details of the tumor margin and infiltration. We will then register this detailed spatial scan back to the in vivo data to better understand tumor/neuron interactions."