NEW YORK - Black undergraduates who might be inclined to pursue scientific careers are often confronted by many potential roadblocks, including a lack of exposure to the points of entry and insufficient guidance about how to pass through those portals. This is one of the institutional reasons why the Black community remains underrepresented in the scientific enterprise. On November 4, in the Education Lab of Columbia's Zuckerman Institute, an energy-rich event showcased how well a fledgling program–with origins and participants across the Columbia University community–is taking on this challenge. 
"It's about knowing where the path starts," said Yasmin Ramadan, a PhD candidate in biology and one of the organizers of Columbia's three-year-old Black Undergraduate Mentorship Program in the Biological Sciences, or BUMP Bio for short. On November 4, Ramadan, her BUMP co-organizers, and scores of others joined 11 BUMP undergraduates at their first annual research symposium, where the young, budding scientists showed they indeed have found those entry points and are moving forward toward careers in science. 
Opeyemi (Ope) Lekan, an undergrad who presented a research poster at the symposium, credited his experience with BUMP – along with the experience the program helped to orchestrate in the lab of systems biologist Harris Wang, PhD – for  much of his ambition to pursue an MD-PhD program. With a poster titled "Restructuring the Mammalian Microbiome Using Fecal Microbiota Transplant (FMT)," evidence that he is sprinting toward science is hard to miss. Lekan wants to leverage the science he does now and in the future into practical benefits. The work he presented could have relevance for treating chronic and currently incurable gut-based maladies such as Crohn's disease.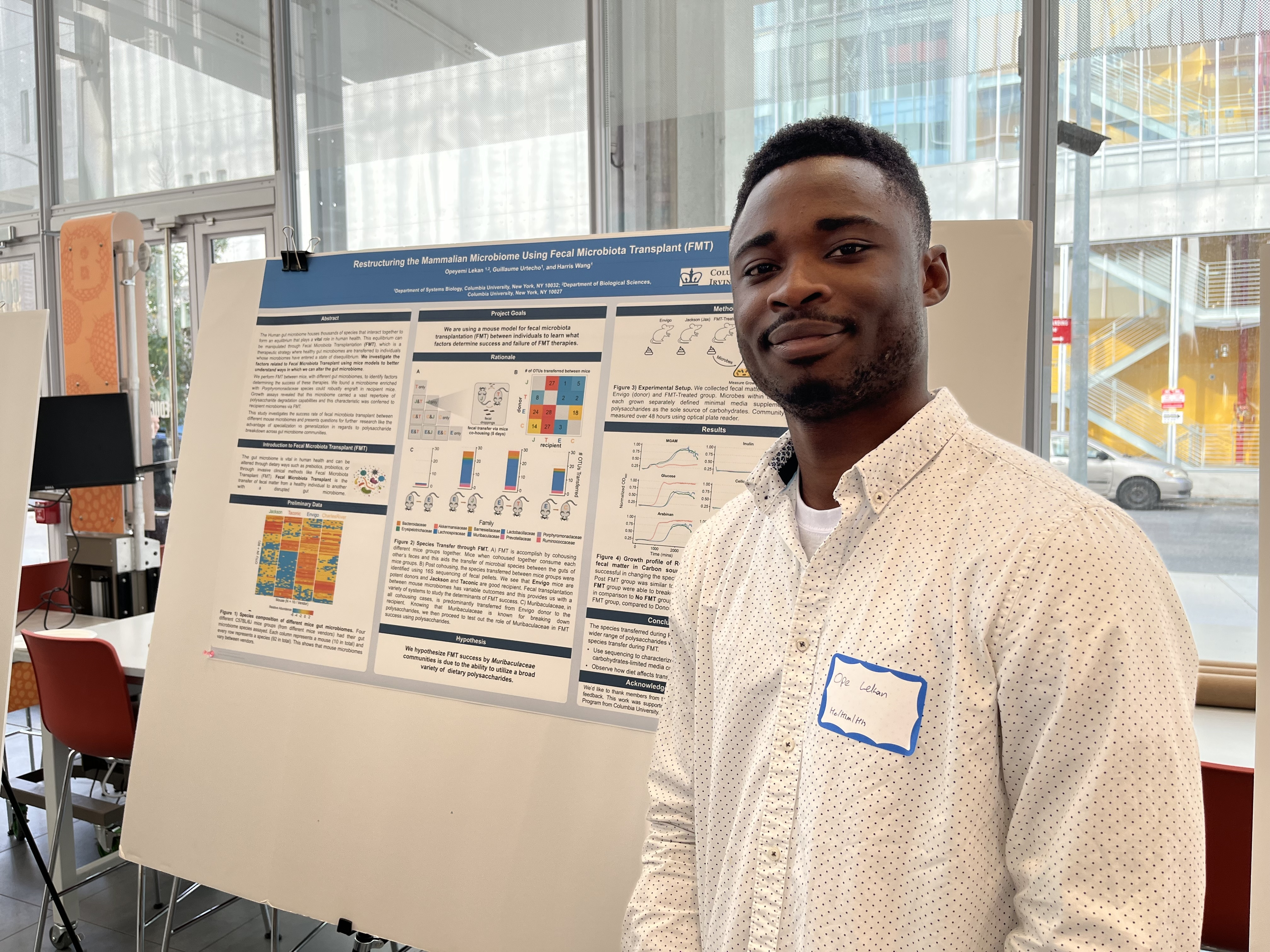 Undergraduate Opeyemi (Ope) Lekan plays host at his BUMP research poster (Credit: The Bump Team).
 
Another undergraduate presenter at the symposium, Athena Pagon, also is driven by science's potential to solve medical problems. That's why it makes sense that her two lab supervisors have appointments both in biomedical engineering on the Morningside Campus and orthopedic surgery on the medical campus. Speaking to several rapt visitors at her poster, "Assessing the Utility of Decellularized Synovial Membrane as a Scaffold for Tissue Engineering," she explained how her work could lead to new ways of repairing tissue damage in the joints of those with rheumatoid arthritis. She too listed BUMP among the factors that have enabled her current laser focus on joining the scientific community. 
Since its start in August 2020, BUMP at Columbia has drawn over 60 undergraduates into its fold, said Beka Stecky, a PhD candidate in the Marlin and Lomvardas labs at the Zuckerman Institute, and one of the founding organizers of BUMP. At the heart of the program are relationships that each undergraduate mentee develops with a team of science and career mentors. 
The program emerged early during the pandemic when she, Ramadan, and Zuckerman postdoc Raffi Cohn met in the lab of Oliver Hobert in the Department of Biochemistry and Molecular Biophysics. There they built upon previous discussions in the equality-driven organization Biology Trainees Against Exclusion and more fully articulated their common lament that too many Black undergraduates were excluded from science, technology, engineering and math (STEM) fields because of a lack of exposure to the inside information on how to succeed in science. That includes early musts such as meeting scientists, getting jobs in research labs and knowing the intricacies of applying to graduate school.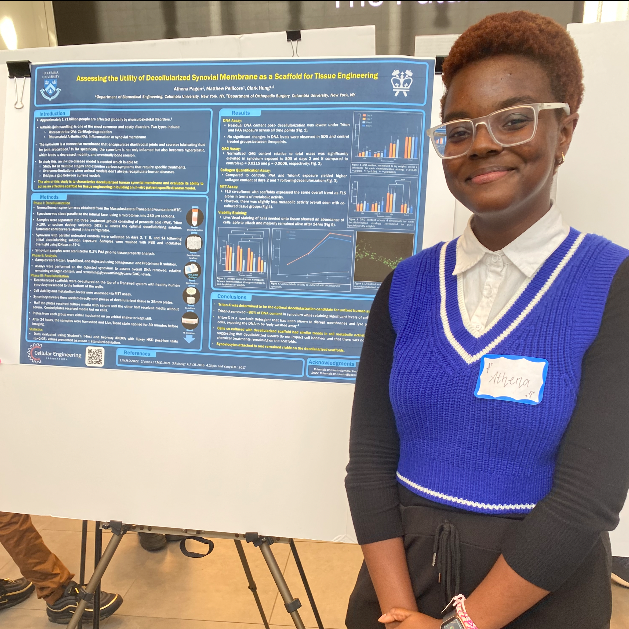 Undergraduate Athena Pagon takes a break from explaining her research at the First Annual BUMP Biology Research Symposium (Credit: The Bump Team).
 
When the trio shared their concern with Bob Pollack, former dean of Columbia College and director of the Research Cluster on Science and Subjectivity (RCSS), he connected them with RCSS intern-scholar, Raisa Alam (CC '21) and Columbia's Black Alumni Council–most notably Denise (Neci) Whye, a champion of mentorships, BAC president Riley Jones IV and Ewoma Ogbaudu–whose members are firsthand-aware of the challenges Black students face in overcoming institutional and ingrained barriers. Other individuals and organizations joined the cause, including the Committee on Diversity, Equity and Inclusion (within the Department of Biological Sciences) and Columbia's Zuckerman Institute. 
Then came funding from several sources. Credit goes to Harmen Bussemaker, who recently stepped down as Chair of Biological Sciences, for helping to secure start-up funding for BUMP from university sources. Contributing to the cause also have been  Columbia University's Graduate School of Arts & Sciences, the Zuckerman Institute and the Simons Foundation. This funding has provided close to $5,000 for research and housing to each undergraduate mentee. 
The BUMP research symposium brought tears of happiness to Ramadan, she said, because it showed so joyfully how she and her collaborators have been able to deliver on the original vision of providing mentorship and support to Columbia's Black undergraduates, who otherwise might miss out on the scientific adventures that should be open to them. "The pure joy of it" is what Stecky said was most uplifting for her at the symposium. "It lit me up to see the presenters having so much fun talking about their science."
Successful as the symposium was, it was just a step forward. 
"Our goal is to help Black undergraduates see where the path starts and to offer the resources to take their next steps," said Ramadan. 
The program surely seems to be working. Most BUMP participants already have expressed their commitments to pursue scientific journeys. Some have earned positions in the labs of mentors, so often a key early step to becoming a professional scientist. Even so, moving the scientific community toward full inclusivity and equitable representation will take a multiplication of first steps like this, at Columbia and throughout the educational and scientific landscape.