NEW YORK, NY — In late May of every year since 2013, Columbia's Zuckerman Institute has hosted BRAINYAC Interview Day. It's when a gaggle of New York City high school students, who had been traveling to the institute every Saturday for months to learn how science works, find out two defining details about their summer: the projects they will work on as neuroscience research interns and who their mentor matches, essentially their partners in discovery, will be.
"For 10 years, BRAINYAC has been opening pathways into science that have not been accessible enough to local high school students from underrepresented groups," said Diana Li, PhD, who since 2019 has been director of BRAINYAC, the short name for the science-gateway program Brain Research Apprenticeships in New York at Columbia. "It's what BRAINYAC is all about," said Li, who also is associate director of education and training initiatives at the Zuckerman Institute.
Piper Domsch, a junior at Columbia Secondary School in Harlem, is among the current BRAINYAC students. She found out about the program from her guidance counselor. 
"The program has helped me realize that I want to pursue science more seriously," Domsch said, noting she now feels the same kind of confidence with science as she does in subjects like English and philosophy. "I am curious about how our thoughts, even when they are not represented in reality, can still inform our actions," she said.
"I didn't know what to expect, but coming here and having everyone so eager to help and be so cooperative was inspiring," recalled Khalfani Louis, who was in the inaugural BRAINYAC class in 2013.
"It's so wonderful that BRAINYAC has given so many young people in our community transformative opportunities to explore their curiosity about the world and to challenge themselves in ways we know have had lasting effects," said Alissa Mayers, the Zuckerman Institute's director of public programs. "We just had a reunion where BRAINYAC alums, going all the way back to 2013, were mingling with our 2023 students and mentors and organizers, and you could just feel the energy, the bonding and a love of science that the program has been delivering for everyone involved."
BRAINYAC is the brainchild of Dr. Kelley Remole, who earned her PhD in neurobiology and behavior at Columbia. She served as senior director of programs at the Zuckerman Institute until 2021.
A student from the inaugural BRAINYAC class in 2013 beside the poster of the summer research she worked on.
"The program came out of our commitment to engage our neighbors, in this case by providing local high school students with experiences that help them find on-ramps into academic pathways," said Mayers. As it celebrates its 10th anniversary this summer, nearly 170 students have been through the program. 
A BRAINYAC cycle begins with a spring training phase, said Maia Gumnit, PhD, a public programs manager at the Zuckerman Institute. For the training phase, she and fellow organizers recruit graduate students, postdocs, faculty and previous BRAINYAC students as instructors and mentors. These recruits usher students through a survey of neuroscience concepts and laboratory techniques. Sessions focus on microscope techniques, pipetting, computer code for controlling experiments and handling data, dissection, reading scientific papers and more. 
"We include a session on neuroethics, so that students learn how research can have consequences for people and societies," said Dr. Li. The spring training sessions also feature the Irondale Ensemble Project, an improv group that helps students develop confidence when speaking in front of others. New just last year is a homeroom period each morning for students to connect and share experiences.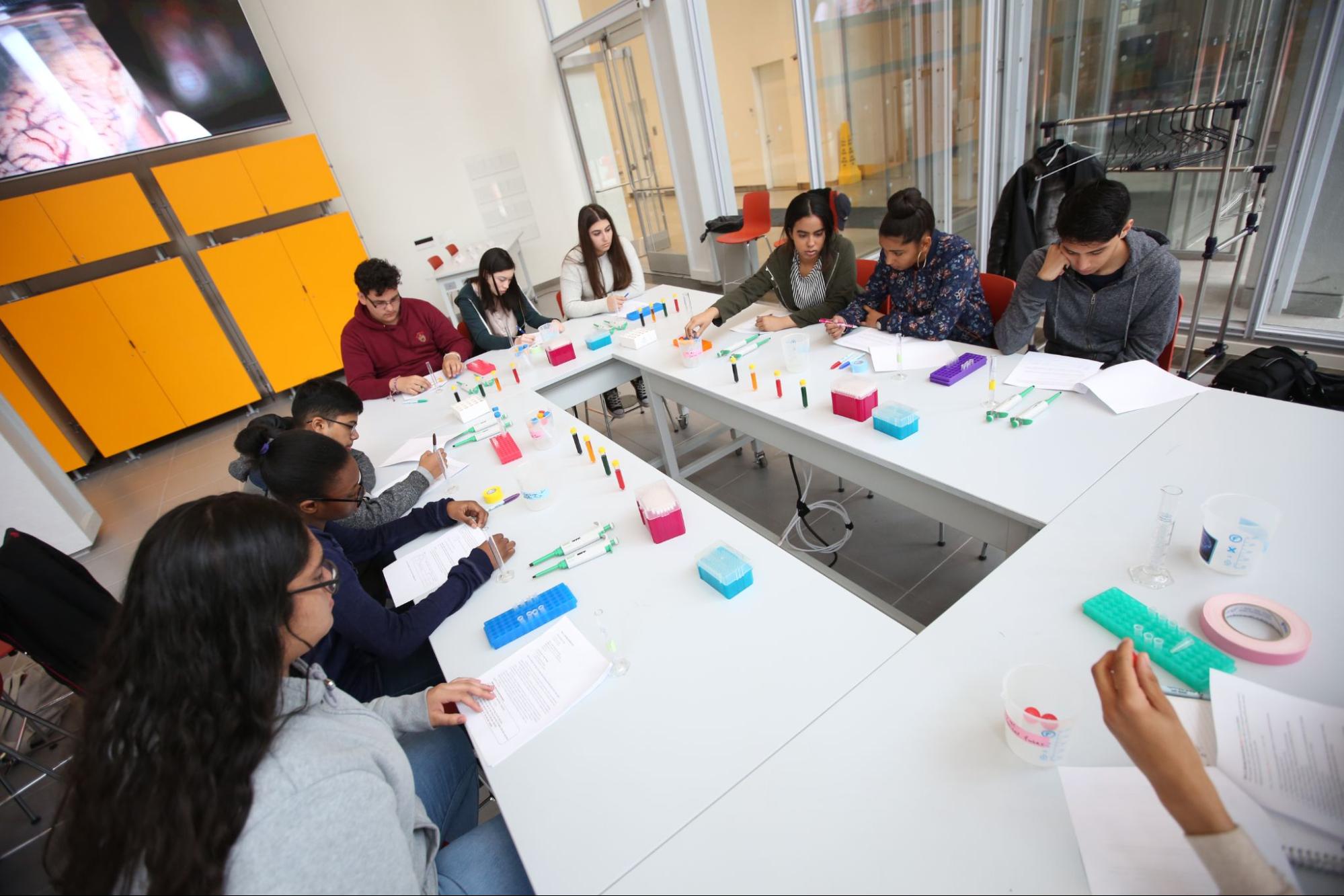 Students in the 2017 BRAINYAC class learn pipetting techniques they will use in their summer research projects.
During the training phase, the BRAINYAC team tries to identify the interests, strengths and passions of each BRAINYAC student. From those analyses, the team partners with mentors to design meaningful and achievable summer research projects. On Interview Day, students and potential mentors meet in short one-on-one discussions, akin to a job fair's speed interviews. 
"Students drive the decisions," Dr. Li said. "This means that mentors get students who are very excited about the particular research they will work on over the summer." 
Their summer research is a bona fide job. It's everyday, nine to five, and the students are paid. On Thursdays during the summer, the BRAINYAC team holds classes where students prepare research posters, which they present in a program-finale symposium in August at the Zuckerman Institute and at a citywide STEM event for young scientists-in-training at the American Museum of Natural History. Over the years, the students' posters have represented much of the neuroscience research landscape, from cuttlefish camouflage behavior to the molecular bases of neurodegenerative diseases to the effects of stress on brain development.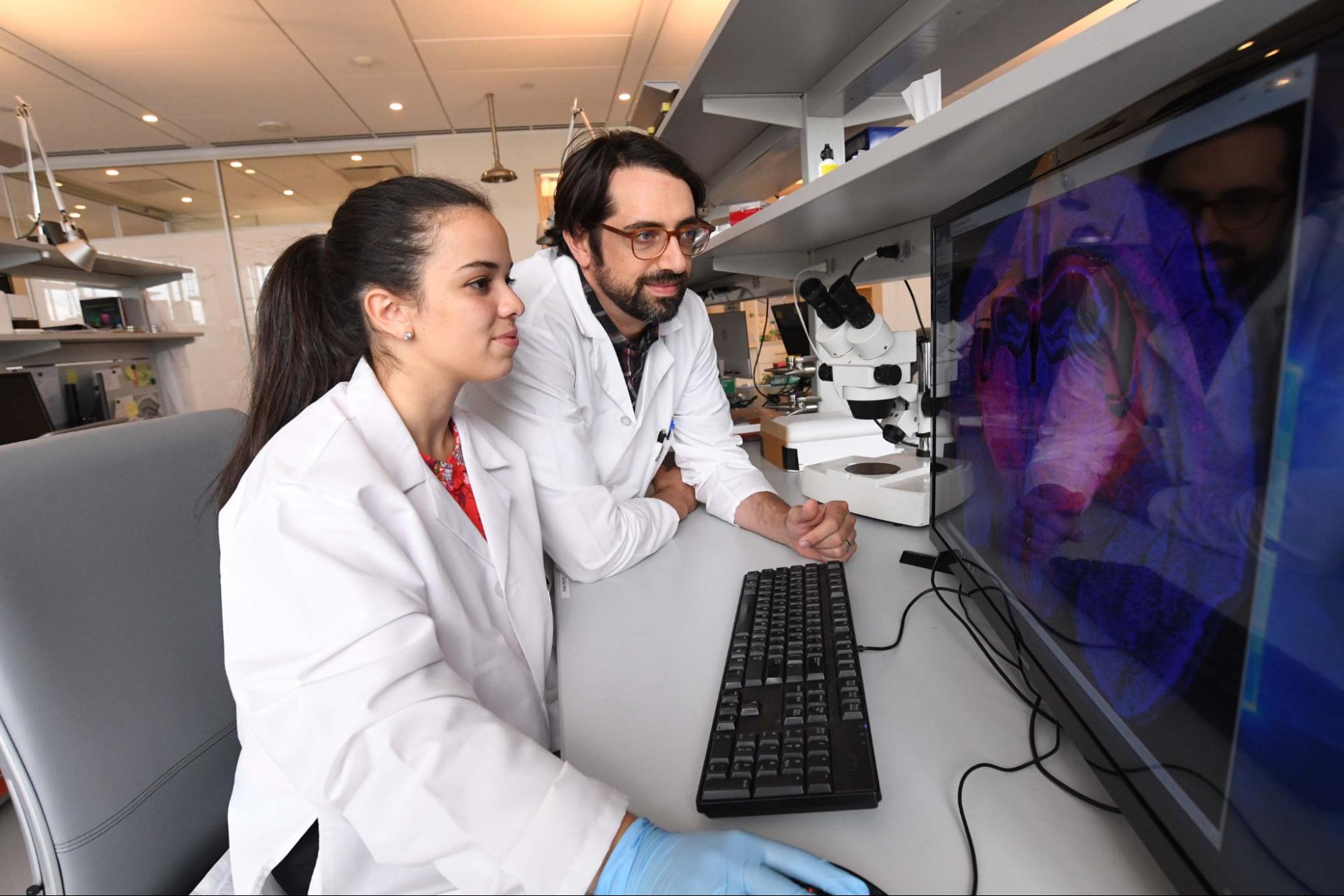 A student in the 2018 BRAINYAC class examines a section of neural tissue with her mentor.
Domsch's BRAINYAC classmate this year, Dalton high school sophomore Aminata Diallo, heard about BRAINYAC through BioBus, another science-based public engagement program (and partner of the Zuckerman Institute). She said she is motivated to learn about the brain because she suffers from migraine headaches. 
"There are a lot of cool things about pain that are unknown, and I hope I can learn about that in the BRAINYAC program," said Diallo.
Alums have built on their BRAINYAC experiences in different ways. "Many are doing basic science in college programs," said Ikenna Nebo, who earned a bachelor's degree in neuroscience from Columbia in 2022 and now works with Dr. Li and her team as a public engagement officer.  "Some are in the tech sector. One became a dentist." 
Science enthusiasm in high school doesn't always translate into a lasting scientific trajectory, nor is that the only goal of the BRAINYAC program. Mr. Louis, for one, started out in a premed program before shifting to theater. He currently is working acting jobs while consulting for Oracle, the tech firm. Although he opted out of science, Mr. Louis said his BRAINYAC experience continues to serve him well.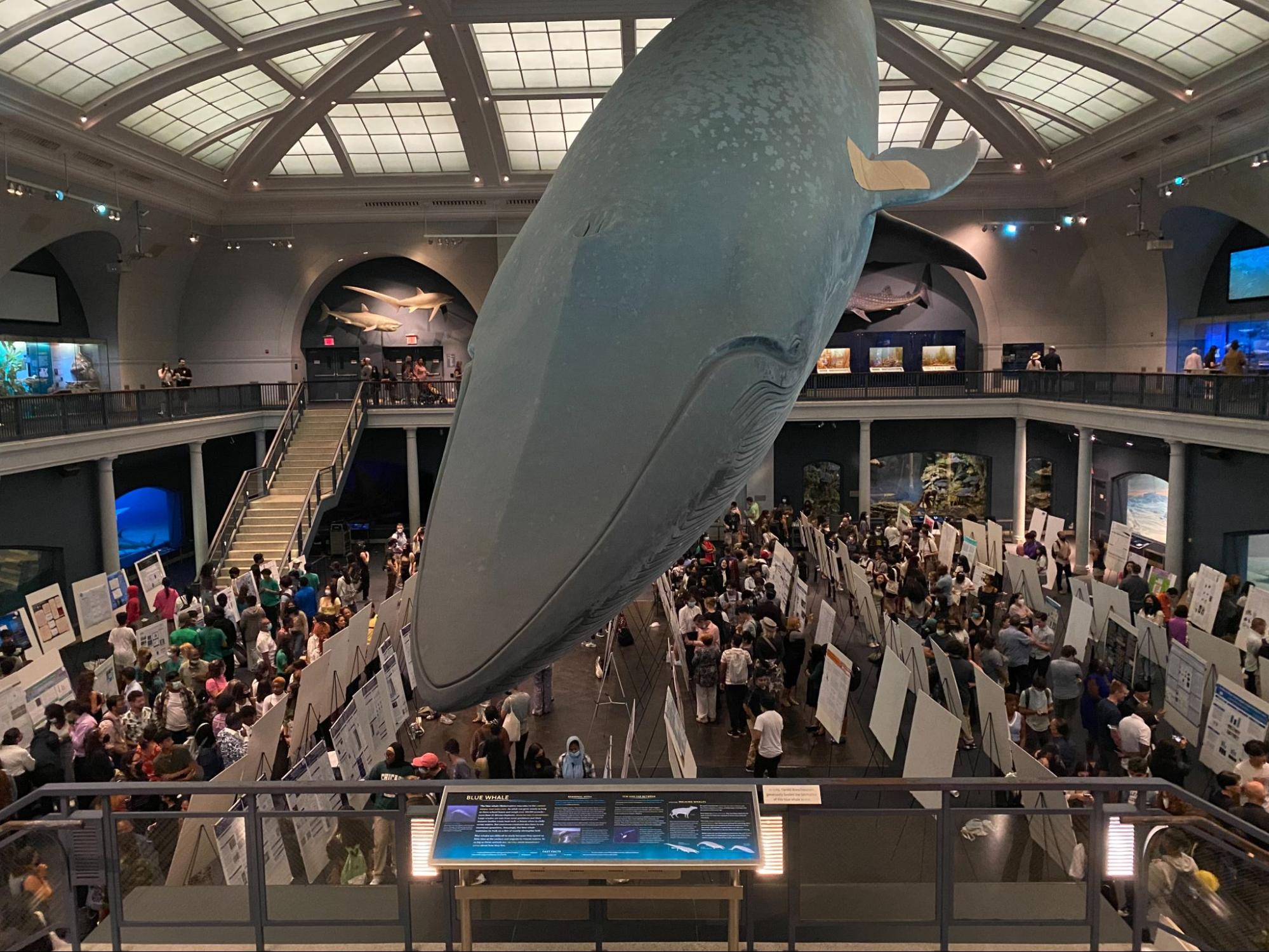 2022 BRAINYAC interns share research posters at the American Museum of Natural History in an all-city STEM event. 
"It developed my ability to ask great questions, instilled in me a solid work ethic and trained me to speak clearly about complicated subjects," he said.
The program's mentors and instructors report their own gains from their participation.
"Teaching for BRAINYAC helped me to understand what I need to learn to explain brain research to those who are new to it," said Abhishek Shah, a senior instructor with the program and a graduate student studying learning and memory at the Zuckerman Institute.
Funding from the Pinkerton Foundation has meant that each BRAINYAC intern can be paid for their summer research. The National Institutes of Health has provided support to students for their Saturday training sessions in the spring. Grants from the Stavros Niarchos Foundation have paid for laboratory supplies and made it possible to hire additional instructors, assistants and BRAINYAC graduates to enrich the overall experience for the students.
"In our first 10 years, we have built a gateway program for local students unlike I have seen anywhere else," said Dr. Li. "I expect the program to only get better in its second decade."